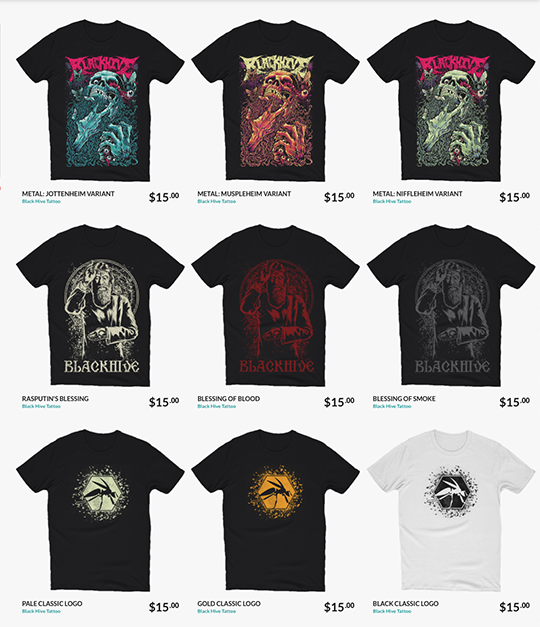 The samples of our newest designs in our online store at storefrontier.com/blackhivetattoo are in and they look great!
You can see above that there are three separate designs with multiple variants available, and they are ALL $15 until August 17th!
The images above are the previously released "death metal" style shirt that we released in the Midgard (earth tones/NOT SHOWN), and Jottunheim (in blue tones) color palettes, as well as the never before released variants of Musppleheim (lava tones) and Niffleheim (deathly green tones) color palettes.

Just below that is the original Rasputin's Blessing t-shirt with the never before seen red print version we're calling Blessing of Blood, and the gray print version titled Blessing of Smoke.
And last, but not least, for the minimalists out there, we produced a classic logo only shirt in three different colors that will be permanently priced at $15 as long as storefrontier.com doesn't make us up the price!

As usual, they are available in sizes from Small to 3XL, and don't forget to click the tabs to select from multiple shirt styles AND multiple colors for each item!
As crazy as it seems, we still have more coming! In a few weeks, we'll be dropping two shirt designs from our own Matt Moore, so keep an eye out for that in a future newsletter!
As a final reminder, we have size small samples at the shop to view in person, but we WILL NOT be keeping a stock on hand for sale at the shop, and (depending on how many you order) the turnaround time from when you order to when you get your shirts is roughly one two weeks.
Thanks again to everyone that has already ordered shirts, and thanks so much for your continued support!