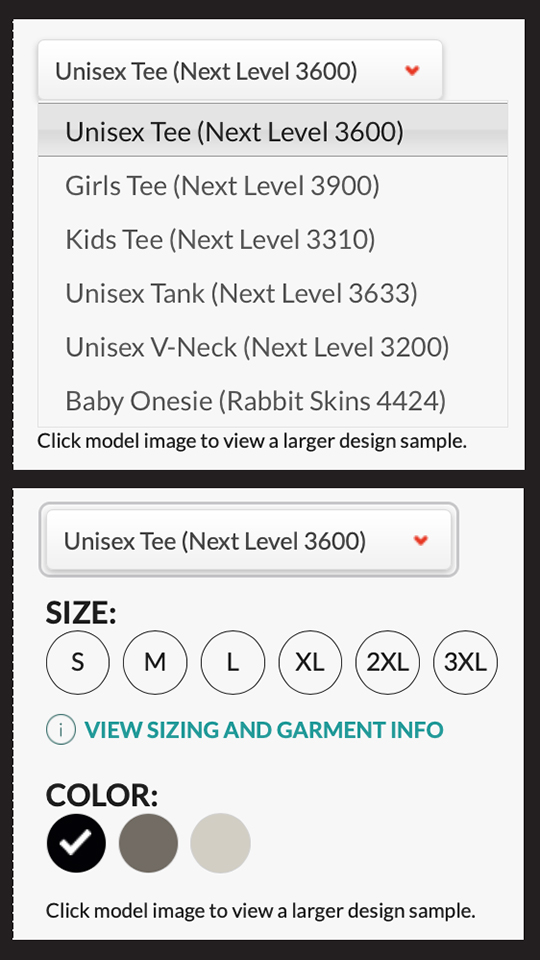 Hey everybody!

We're still waiting for the samples from Storefrontier.com/blackhivetattoo before we launch the next batch of available shirt designs, but in the meantime, we've opened up all the variants on ALL of the currently available shirts!

As you can see in the picture above, if you click on the "shirt style" tab the drop down menu will show you that not only are all designs available in men's tees, but "girl's" tees (Sorry ladies, their words, not ours), kid's tees, unisex v-necks, unisex tanktops, and even baby onesies!

Also, don't forget to look under the shirt style tab, once you've made your selection to see what color shirt that particular style is available in because they are not all the same! Just click on the color dot to see a preview of that design, on that shirt style, in that color.

AGAIN, none of these are available at the shop!
They are ONLY available through storefrontier.com/blakhivetattoo.com, and the turn around time between when you order them and when you receive them is between 1-2 weeks.

Thanks so much to everyone who has picked up a shirt so far, thanks in advance to those of you who will order now that we have more than just men's tees, and we'll get the next batch of designs up as soon as we get the samples in and confirm that they're getting printed right.