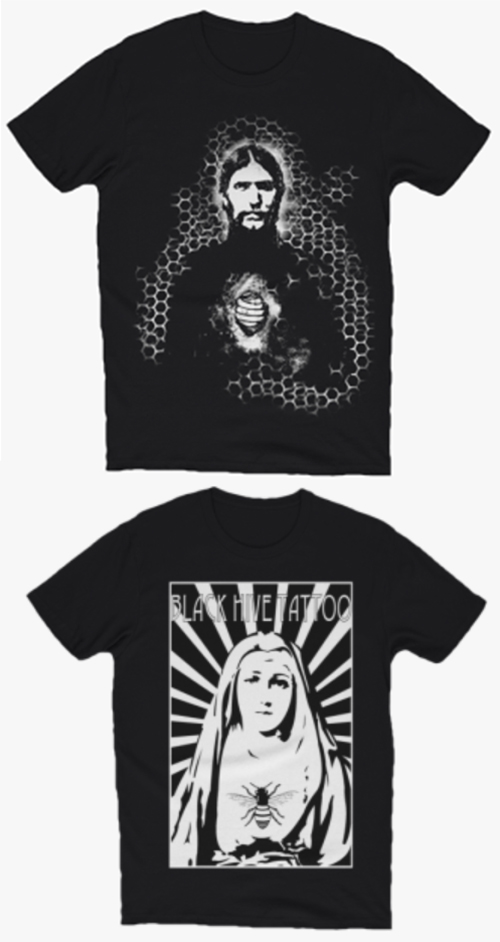 The next two shirts we've added to https://www.storefrontier.com/blackhivetattoo are from our first full year being open as shop, 2009!
The images above were made by Howard Kirk of the local restaurants 13 Gypsies and Foo Dog Curry Traders, and they are both available in sizes from Small to 3XL.

The Holy Mary design is available in three colors, but Rasputin's Black Heart men's tee is only available in black…HOWEVER, there is a surprise in store for our clients when they check out BOTH designs!
Make sure you click on on the tab that says "unisex tee" when you look at each of the new designs to see what we've left for your consideration!
Both of these designs (and the surprises under the "unisex tee" tab) will be available for only $15-$20 (depending on the size) until July 7th. Yup…that means there's even less time to get the promotional deal on these new "old" designs, so don't sleep on these!

BUT, if you miss them at the special price, DON'T WORRY!
We will NOT be keeping a stock on hand at the shop, but they'll always be available in all sizes through https://www.storefrontier.com/blackhivetattoo
That brings us up to 7 individual designs and two variants! That's a lot, huh?

BUT WE'RE NOT DONE YET! After July 7th, we'll begin adding a few more individual designs and a few more variants! Some new, and some re-releases that we've been sold out of for years.
Finally, thanks again to everyone that has already ordered, thanks for your continued support, and remember that the turn around time from when you order and when you receive your order is about two weeks.